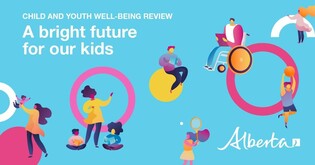 Child & Youth Well-Being Review
Posted on
The Government of Alberta wants to hear how COVID-19 has affected children and youth across the province, so they can better support them now and into the future.
The Child and Youth Well-Being Review was established to better understand the full scope of the psychological, social, educational and physical effects related to the COVID-19 pandemic on children and youth.
The panel will engage with a wide range of Albertans, including researchers, educators, health care professionals, and mental health experts, as well as parents and kids.
COVID-19 has affected all aspects of life for children and youth from every culture and community. The panel will learn from experts on ways to ensure children and youth have the tools they need to process and cope in healthy ways.

Attend a telephone town hall to share your stories with the Child & Youth Well-being Review on:
➡️Thursday, June 24 from 6 to 7:30 pm
➡️Saturday, June 26 from 10 to 11:30 am
➡️Tuesday, June 29 from 6 to 7:30 pm

Can't call in? Take the online surveys for adults and youth instead.
Learn more at alberta.ca/BrightFuture